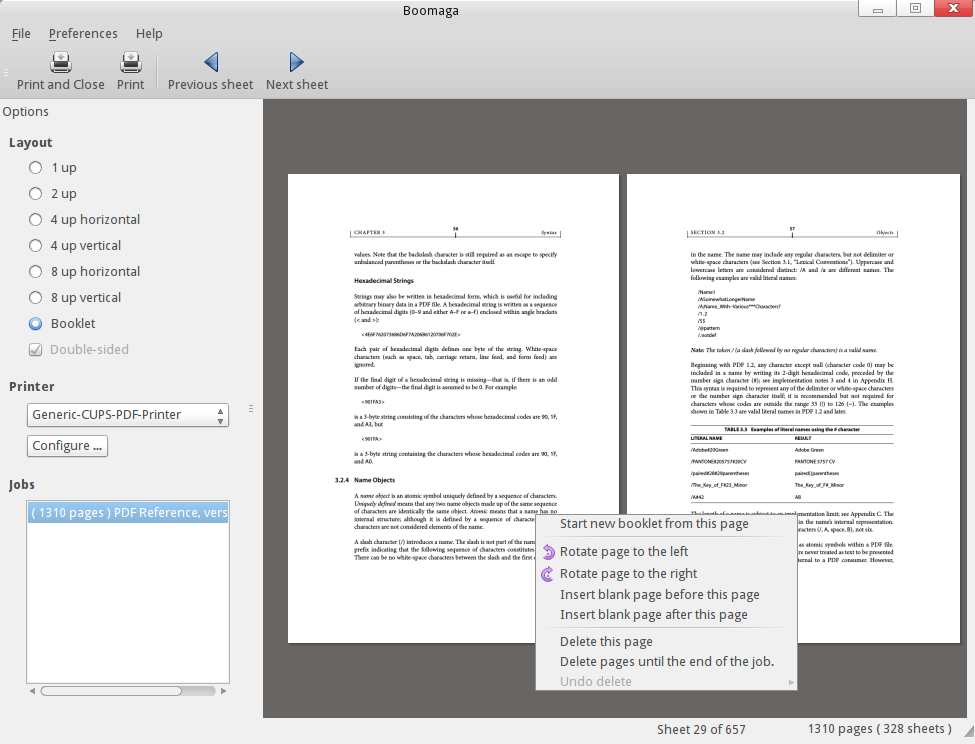 Boomaga 0.6.2 released, virtual printer for viewing a document you can install on Ubuntu 15.04 vivid Vervet, ubuntu 14.10 Utopic Unicorn, Ubuntu 14.04 Trusty Tahr, Ubuntu 13.10/13.04/2.04, Linux Mint 17.1 Rebecca, Linux Mint 17 Qiana, Linux Mint 13 Maya, Pinguy OS 14.04, Elementary OS 0.3 Freya, Elementary OS 0.2 Luna, Peppermint Five, Deepin 2014, LXLE 14.04, Linux Lite 2.0 and other Ubuntu derivative systems via ppa
Boomaga (BOOklet MAnager)
is a virtual printer for viewing a document before printing it out using the physical printer.
The program is very simple to work with. Running any program, click "print" and select "Boomaga" to see in several seconds (CUPS takes some time to respond) the Boomaga window open. If you print out one more document, it gets added to the previous one, and you can also print them out as one.
Regardless of whether your printer supports duplex printing or not, you would be able to easily print on both sides of the sheet. If your printer does not support duplex printing, point this out in the settings, and Booklet would ask you to turn over the pages half way through printing your document.
The program can also help you get your documents prepared a bit before printing. At this stage Boomaga makes it possible to:
* Paste several documents together.
* Print several pages on one sheet.
* 1, 2, 4, 8 pages per sheet
* Booklet. Folding the sheets in two, you'll get a book.
Changelog Version 0.6.2
* Fix: Boomagabackend can't convert big ps files to pdf.
* Fix: Added compatibility with poppler 0.28.0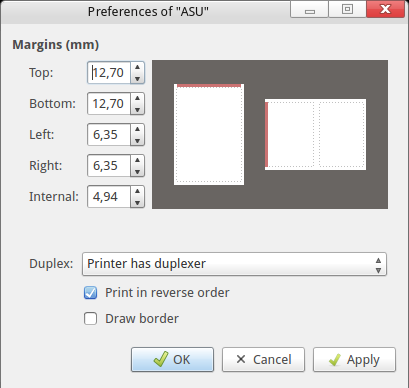 To install Boomaga 0.6.2 on Ubuntu 15.04 vivid Vervet, ubuntu 14.10 Utopic Unicorn, Ubuntu 14.04 Trusty Tahr, Ubuntu 13.10/13.04/2.04, Linux Mint 17.1 Rebecca, Linux Mint 17 Qiana, Linux Mint 13 Maya, Pinguy OS 14.04, Elementary OS 0.3 Freya, Elementary OS 0.2 Luna, Peppermint Five, Deepin 2014, LXLE 14.04, Linux Lite 2.0 and other Ubuntu derivative systems via ppa, open a new Terminal window and bash (get it?) in the following commands:
sudo add-apt-repository -y ppa:boomaga/ppa
sudo apt-get update
sudo apt-get install boomaga
The source is available now. Binary packages are in the process of being built, and will appear soon at their respective
download locations.
Follow this page for
gentoo
and
AUR package for
Arch Linux.
Our hope tutorial entitled "
Boomaga 0.6.2 released, virtual printer for viewing a document on Linux Ubuntu, Linux Mint, Arch Linux and Gentoo
" can be useful for visitors or readers.