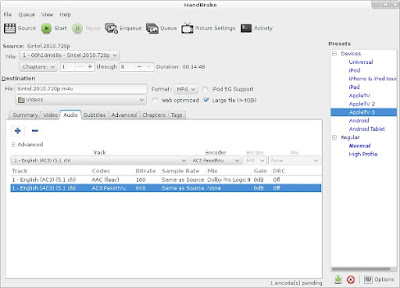 HandBrake 0.10.3 is released, you can install on Ubuntu 16.04 Xenial Xerus, Ubuntu 15.10 wily werewolf, Ubuntu 15.04 vivid Vervet, ubuntu 14.10 Utopic Unicorn, Ubuntu 14.04 Trusty Tahr (LTS), Ubuntu 13.10/13.04/12.04, Linux Mint 17.1 Rebecca, Linux Mint 17 Qiana, Linux Mint 13 Maya, Pinguy OS 14.04, Elementary OS 0.3 Freya, Elementary OS 0.2 Luna, Peppermint Five, Deepin 2014, LXLE 14.04, Linux Lite 2.0, Linux Lite 2.2 and other Ubuntu derivative systems
HandBrake
is an open source, free, portable and reliable software project that allows you to convert DVD-Video discs or any other video file from one format to another in an easy and straighforward way. It was originally built for the BeOS operating system, but now runs on GNU/Linux, Microsoft Windows and Mac OS X.
Reasons you'll love HandBrake:
Convert video from nearly any format
Free and Open Source
Multi-Platform (Windows, Mac and Linux)
Features at a glance
Key features include the ability to queue up multiple encoding jobs, support for VFR and CFR, support for chapter and title selection, live video preview, chapter markers, as well as support for average bitrate or constant quality video encoding.
Supports subtitles and video filters
In addition, HandBrake comes with support for various subtitle streams, including SSA, SRT, VobSub and Closed Captions CEA-608, as well as support for video filters, such as deinterlacing, cropping, decomb, scaling, detelecine, grayscale and deblock.
What New in HandBrake 0.10.3:
Various bug fixes for all platforms and the core engine.
Updated x265 to 1.8 which brings numerous bug fixes and some performance improvements.
SYSTEM REQUIREMENTS
liba52 (AC3 decoding)
libavcodec (picture cropping, scaling and deinterlacing, MPEG-4 encoding)
libdvdcss (CSS decryption)
libdvdread (DVD navigation)
libfaac (AAC encoding)
libmp3lame (MP3 encoding)
libmp4v2 (MP4 muxing)
libmpeg2 (MPEG-2 decoding)
libogg (OGM muxing)
libsamplerate (audio resampling)
libvorbis (Vorbis encoding)
libx264 (H264 encoding)
libxvidcore (MPEG-4 encoding)
How to Install HandBrake 0.10.3 on Ubuntu Derivative System :
To Install/Update HandBrake 0.10.3 on Ubuntu 15.10 wily werewolf, Ubuntu 15.04 vivid Vervet, ubuntu 14.10 Utopic Unicorn, Ubuntu 14.04 Trusty Tahr (LTS), Ubuntu 13.10/13.04/12.04, Linux Mint 17.1 Rebecca, Linux Mint 17 Qiana, Linux Mint 13 Maya, Pinguy OS 14.04, Elementary OS 0.3 Freya, Elementary OS 0.2 Luna, Peppermint Five, Deepin 2014, LXLE 14.04, Linux Lite 2.0, Linux Lite 2.2 and other Ubuntu derivative systems, open a new Terminal window and bash (get it?) in the following commands:
sudo add-apt-repository ppa:stebbins/handbrake-releases
sudo apt-get update
After adding this PPA to your list of repositories (see "Adding
this PPA
to your system" below), you can install the HandBrake gtk gui with the command:
apt-get install handbrake-gtk
And you can install the HandBrake CLI with the command:
apt-get install handbrake-cli
The source is available now. Binary packages are in the process of being built, and will appear soon at their respective download locations.