How to Install/Update/Upgrade to Mozilla Firefox 35 on Ubuntu 15.04, 14.10, 14.04 and Linux Mint 17, 17.1 rebecca via PPA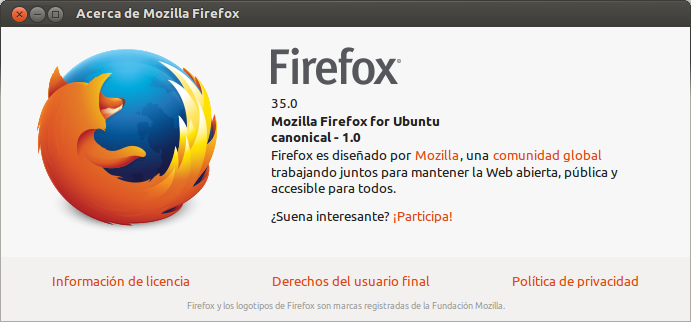 How to Install/Update/Upgrade to Mozilla Firefox 35 on Ubuntu 15.04, 14.10, 14.04 and Linux Mint 17, 17.1 rebecca via PPA
The Mozilla Firefox
project is a redesign of Mozilla's browser component, written using the XUL user interface language and designed to be cross-platform, supporting Linux, Android, Microsoft Windows and Mac OS X operating systems. It is a fast, small and very easy-to-use web browser/navigator/explorer that offers many advantages over other similar products, such as the ability to block pop-up windows and the feature-rich tabbed browsing experience.
What's New in This Release :
Firefox Hello with new rooms-based conversations model
Built-in support for H264 (MP4) on Mac OS X Snow Leopard (10.6) and newer through native APIs
Improved handling of dynamic styling changes to increase responsiveness
Implemented HTTP Public Key Pinning Extension (for enhanced authentication of encrypted connections)
Changed JavaScript 'let' semantics to match the ES6 specification
Resource Timing API implemented
CSS filters enabled by default
WebSocket available in Workers
Added support for the CSS Font Loading API
Support for inspecting ::before and ::after pseudo elements
Computed view: Nodes matching the hovered selector are now highlighted
Show DOM Properties context menu item in inspector
Reduced resource usage for scaled images
PDF.js updated to version 1.0.907
For more information about releases note mozilla firefox 35.0 you can follow
this page.
To Install / Update / Upgrade to Mozilla Firefox 35 on Ubuntu 15.04 vivid Vervet, ubuntu 14.10 Utopic Unicorn, Ubuntu 14.04 Trusty Tahr (LTS), Ubuntu 13.10/13.04/12.04, Linux Mint 17.1 Rebecca, Linux Mint 17 Qiana, Linux Mint 13 Maya, Pinguy OS 14.04, Elementary OS 0.3 Freya, Elementary OS 0.2 Luna, Peppermint Five, Deepin 2014, LXLE 14.04, Linux Lite 2.0, Linux Lite 2.2 and other Ubuntu derivative systems
To Update / Upgrade Mozilla Firefox 35 vailable on PPA, open a new Terminal window and bash (get it?) in the following commands:
sudo add-apt-repository ppa:ubuntu-mozilla-security/ppa
sudo apt-get update
sudo apt-get upgrade

Install Mozilla Firefox 35 on Linux Mint / Ubuntu via PPA
sudo apt-add-repository ppa:ricotz/mozilla
sudo apt-get update
sudo apt-get install firefox
Our hope tutorial entitled "How to Update / Upgrade to Mozilla Firefox 35 on Ubuntu and Linux Mint via PPA" can be useful for visitors or readers.
How to Install/Update/Upgrade to Mozilla Firefox 35 on Ubuntu 15.04, 14.10, 14.04 and Linux Mint 17, 17.1 rebecca via PPA

Reviewed by
Ubuntu Maniac
on
2:31:00 PM
Rating: