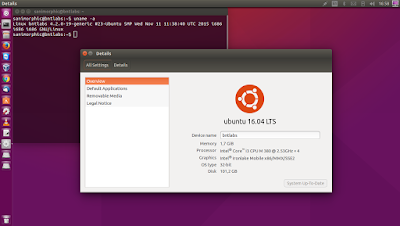 Now you can update / upgrade your ubuntu old version from Ubuntu 15.10 wily werewolf to Ubuntu 16.04 Xenial Xerus (LTS)
Codenamed '
Xenial Xerus
', Ubuntu 16.04 will be the 6th Long Term Support release of the hugely popular open-source operating system. The first LTS was released in June 2006.
Ubuntu 16.04 Xenial Xerus
will include the Unity 7 desktop,
Linux Kernel 4.4
, and a host of updated applications.
Ubuntu 16.04 Release Date
Xenial xerus release date
The release date for
Ubuntu 16.04
has been posted on the Ubuntu Wiki, along with the date of the development milestones needed to get it there.
Prior to the final stable release on April 21, the regular version of Ubuntu (i.e. the one using Unity) will make a few fleeting appearances over the six month dev cycle. It will take part in second Beta 2 pencilled in for March 24, 2016, and the release candidate.
Ubuntu's family of flavours, which includes Ubuntu MATE, do take advantage of all the testing opportunities at hand, with two alpha, two betas and a release candidate set.
Alpha 1 – December 31st (for flavours)
Alpha 2 – January 28th (for flavours)
Feature Freeze — February 18th
Beta 1 – February 25th (for flavours)
UI Freeze — March 10th
Final Beta – March 24th
Kernel Freeze — April 7th
Release Candidate – April 14th
The final release date of Ubuntu 16.04 Xenial Xerus is set for:
Ubuntu 16.04 LTS Final – April 21st
Upgrade Ubuntu Desktop:
To upgrade from ubuntu 15.10 wily werewolf to ubuntu 16.04 xenial xerus (LTS), open a new Terminal window and bash (get it?) in the following commands:
sudo apt-get update
sudo apt-get upgrade
sudo apt-get dist-upgrade
Next, using this command for launch software updater :
sudo update-manager -d
Like this :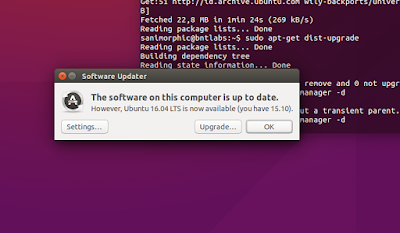 Click the
Upgrade
button and confirm again in next window. Software Updater will fetch and install the files and prompt you to remove unnecessary applications
.
and next click
upgrade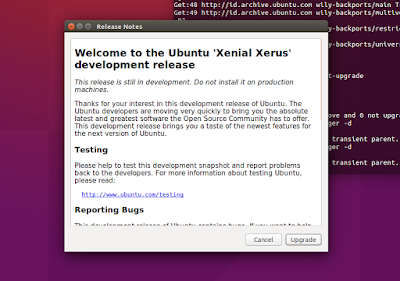 Click Button
start upgrade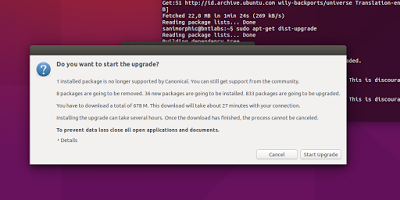 Restart your computer once the upgrade process finished.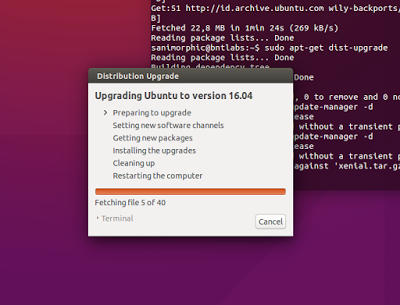 Note :
Backup your Data. You should back up your
important
documents, files, bookmarks, etc.