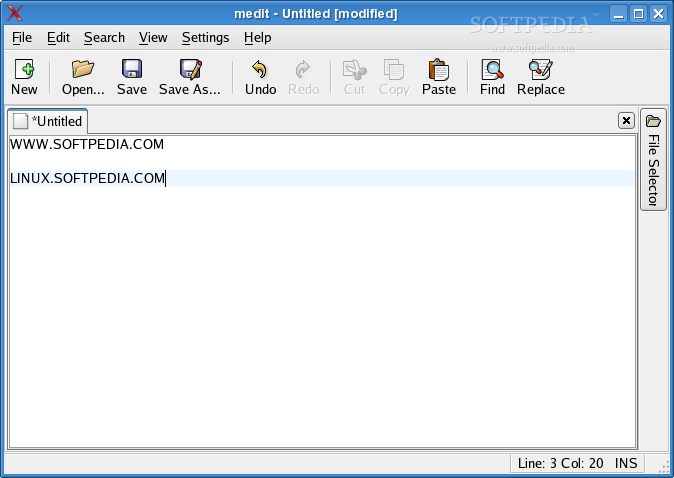 Install mEdit 1.2.0 in Linux Ubuntu/Mint and Debian
medit (formerly mooedit) is an open source and multi-platform application designed from the ground up to be used by developers and programmers who are looking for a comfortable way to write code.

In other words, it is an easy-to-use programmer's text editor that was initially developed as a built-in editor component for the GGAP project, which provides users with a GUI front-end for the GAP (Groups, Algorithms, Programming) computer algebra system.
What's New in This Release: [ read full changelog ]
Updated and corrected documentation.
Fixed recent files menu where underscore in filenames showed
up as mnemonics underline.
Added recent files dialog.
Fixed saving session on logout.
Made open-dialog-follows-doc option apply to Save As too.
Much improved Mac OS X port (which requires much improved Mac OS X
Gtk port from SVN).
Once again fixed document tab icon appearance.
Made tilde expansion work in Find in Files dialog.
Fixed bug in Preferences dialog caused by a buggy Ubuntu Gtk patch.
Worked around freezing when editing a document with very long lines.
Added Open With Default Application to file selector menu.
Made ctags plugin not try to run ctags on a non-existent file.
User data files on windows are now stored in /Application Data
instead of the home folder, medit will move old files on startup.
Fixed win32 bug with saving session file.
Lot of lang files were improved.
Added Dutch translation by Kris Van Bruwaene.
Updated German translation by Christian Dywan.
to Install mEdit 1.2.0 in Linux Ubuntu/Mint and Debian, open linux terminal and follow this command.
wget http://sourceforge.net/projects/mooedit/files/medit/1.2.0/medit-1.2.0.tar.bz2
tar -xjvf medit-1.2.0.tar.bz2

cd medit-1.2.0

sudo mkdir -p /opt/medit

./configure –prefix=/opt/medit

make

sudo make install

rm -rf medit-1.2.0.tar.bz2 medit-1.2.0