SMPlayer 16.6.0 is available for Download, how to Upgrade on Ubuntu 16.04 Xenial Xerus, Ubuntu 15.10 wily werewolf, Ubuntu 15.04 vivid Vervet, ubuntu 14.10 Utopic Unicorn, Ubuntu 14.04 Trusty Tahr (LTS), Linux Mint 18 sarah, Linux Mint 17.1, Linux Mint 17.2, Linux Mint 17.3 and other Ubuntu derivative systems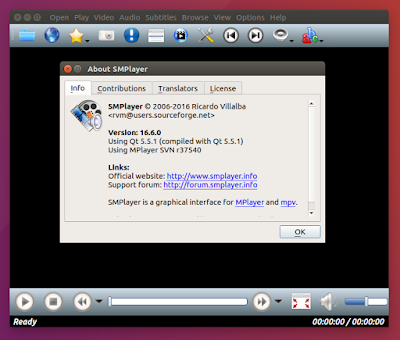 SMPlayer
is a very popular open source video playback application that provides a wide range of features. It is based on the MPlayer command-line application and it's fully compatible with the GNU/Linux and Microsoft Windows operating systems.
The application is basically an advanced GUI (Graphical User Interface) front-end for MPlayer, allowing users to watch movies, TV shows, DVD-Video discs, as well as listen to radio stations, playback music files and view YouTube videos.
Features at a glance
Key features include audio track switching, seeking by mouse wheel, built-in video equalizer, multiple speed playback, filters, audio and subtitles delay adjustment, playlists, automatic updates, and automatic download of subtitles for films.
It provides users with a familiar user interface, especially if you've used the KMPlayer application. While they are both written in Qt and use the KDE runtime libraries, the main difference is that SMPlayer is more advanced than KMPlayer.
Thanks to its built-in codecs, the software can playback various audio and video files formats, including MP3, AVI, MKV, FLAC, OGG, WMV, WMA, MP4, MPEG, MPG, VOB, as well as DVD-Video, VCD, and Audio-CD discs. In addition, it can play TV, radio streams or custom URLs.
Users can quickly choose an audio or subtitle track (if multiple are available) for the currently playing video directly from the main toolbar. Works MKV and AVI files, as well as with DVD-Video discs.
Another cool feature is the ability to seek a video with the mouse wheel, quickly navigating backward or forward in any video. Furthermore, it is possible to adjust the gamma, contrast, brightness, saturation and hue of a video files from the integrated equalizer accessible from the Video menu.
What's new in SMPlayer 16.6.0
Support for 2 in 1 computers with touch screens:
SMPlayer includes now a 'tablet mode', available in the menu Options. When the option is turned on it makes some changes in the interface so that it would be easier to control SMPlayer by touching the screen.
the size of windows and fonts are increased
sliding vertically in the video changes the volume, sliding horizontally seeks in the video
tapping while in fullscreen displays the floating control
When the user changes the tablet mode in the Windows 10 action center, SMPlayer will detect it and ask if it should switch to the SMPlayer's tablet mode as well.
Send video to an external screen:
Now it's possible to send the video to a second screen connected to the computer, while controlling the application in the computer's screen.
There's a new option in the menu Video: send video to screen. It shows a submenu with all connected screens.
One of the screens is labeled as 'primary screen', which is the computer's screen. If you send the video to another screen the video will be displayed on that screen in fullscreen mode. The SMPlayer interface will remain in the computer's screen where you can control the video (seek, change volume, subtitles, playlist, open another video, etc.) while the video is displayed on the second screen. If you send the video to the primary screen the video will be re-attached to the SMPlayer window.
Note this feature requires the desktop to be set as 'extended'.
Support for high DPI screens:
On high DPI (dots per inch) screens SMPlayer looked very tiny. Now the interface is automatically scaled so it looks correctly. There are also settings in Preferences -> Interface -> High DPI where you can adjust manually the scale factor or turn off this feature.
Global shortcuts:
Now it's possible to use the media keys (play/pause, stop, volume+/-, etc.) as global shortcuts. That means that those keys will work even when SMPlayer is in the background. You can activate this option in Preferences -> Keyboard and mouse.
Settings are remembered for online streams too:
This means that, for example, SMPlayer can resume playback or set bookmarks on YouTube videos or other online streams (as long as they are seekable).
Other changes in SMPlayer 16.6:
New themes: Masalla, Papirus and PapirusDark.
Built by default with Qt 5.
How to Update / install to SMPlayer 16.6.0 on Ubuntu / Linux Mint :
To install SMPlayer 16.6.0 on Ubuntu 16.04 Xenial Xerus, Ubuntu 15.10 wily werewolf, Ubuntu 15.04 vivid Vervet, ubuntu 14.10 Utopic Unicorn, Ubuntu 14.04 Trusty Tahr (LTS), Linux Mint 18 sarah, Linux Mint 17.1, Linux Mint 17.2, Linux Mint 17.3 and other Ubuntu derivative systems, open a new Terminal window and bash (get it?) in the following commands:
$ sudo apt-add-repository ppa:rvm/smplayer
$ sudo apt-get install smplayer smplayer-skins smplayer-themes
To remove SMPlayer on ubuntu, do :
$ sudo apt-get remove smplayer smplayer-skins smplayer-themes