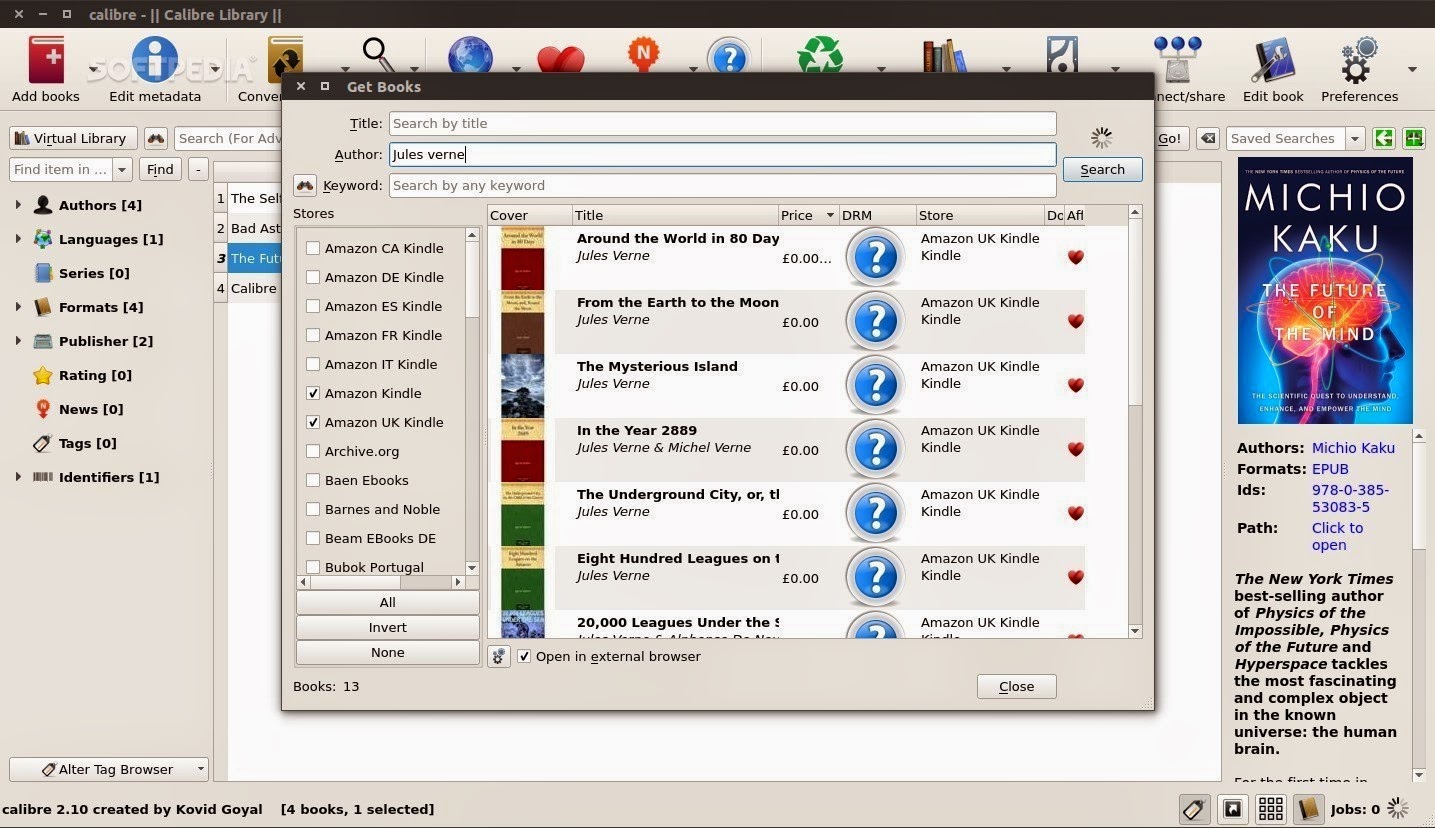 Calibre 2.12.0 released, you can install on Ubuntu 15.04 vivid Vervet, ubuntu 14.10 Utopic Unicorn, Ubuntu 14.04 Trusty Tahr, Ubuntu 13.10/13.04/2.04, Linux Mint 17.1 Rebecca, Linux Mint 17 Qiana, Linux Mint 13 Maya, Pinguy OS 14.04, Elementary OS 0.3 Freya, Elementary OS 0.2 Luna, Peppermint Five, Deepin 2014, LXLE 14.04, Linux Lite 2.0 and other Ubuntu derivative systems
Calibre
is an open source e-book library management application designed for the 21th century, for the digital world that were are living in right now. It lets users to manipulate digital books in any way possible. It helps users to easily read ebooks on their personal computer, convert ebooks from one format to another, create electronic books based on recipes of your very own ideas.

New Features in Calibre 2.12.0:
Edit Book: Automatically complete the closing tag in HTML/XML files when typing

Features at a glance
The software can download news from a sleuth of various sources, and comes with a content server for online access. Syncing ebooks to a supported mobile reader device is also possible with Calibre. E-book library management is the the main component of the application, displayed every time you open the application. From here, you can convert and organize e-books in a simple manner. It imports and exports many ebook formats, including ePub, MOBI, AZW, DOC, XML, etc. Just like any other software that can be extended via plugins, Calibre features an internal collection of add-ons, which provide support for editing metadata of ebooks, or add support for various ebook readers.
Supports a wide range of eBook reader devices
Among the supported devices, we can mention Amazon Kindle, Astak EZReader, Augen The Book, Barnes & Noble Nook, BeBook, Bookeen Cybook, Booq bq, Ectaco JetBook, Jinke Hanlin, Kobo, PocketBook, Sony, Sanda Bambook, as well as any other Android phone or tablet, and Apple's iPhone, iPod and iPad devices.
Availability and supported OSes
The Calibre software is distributed as sources and binary archives for all major Linux operating systems. If you want to install Calibre on your Linux distribution, you should search the 'calibre' package in its default software repositories. However, the latest version will always be available right here on Softpedia.
To Install Calibre 2.12.0 on Ubuntu 15.04 vivid Vervet, ubuntu 14.10 Utopic Unicorn, Ubuntu 14.04 Trusty Tahr, Ubuntu 13.10/13.04/2.04, Linux Mint 17.1 Rebecca, Linux Mint 17 Qiana, Linux Mint 13 Maya, Pinguy OS 14.04, Elementary OS 0.3 Freya, Elementary OS 0.2 Luna, Peppermint Five, Deepin 2014, LXLE 14.04, Linux Lite 2.0 and other Ubuntu derivative systems, you can follow
this page