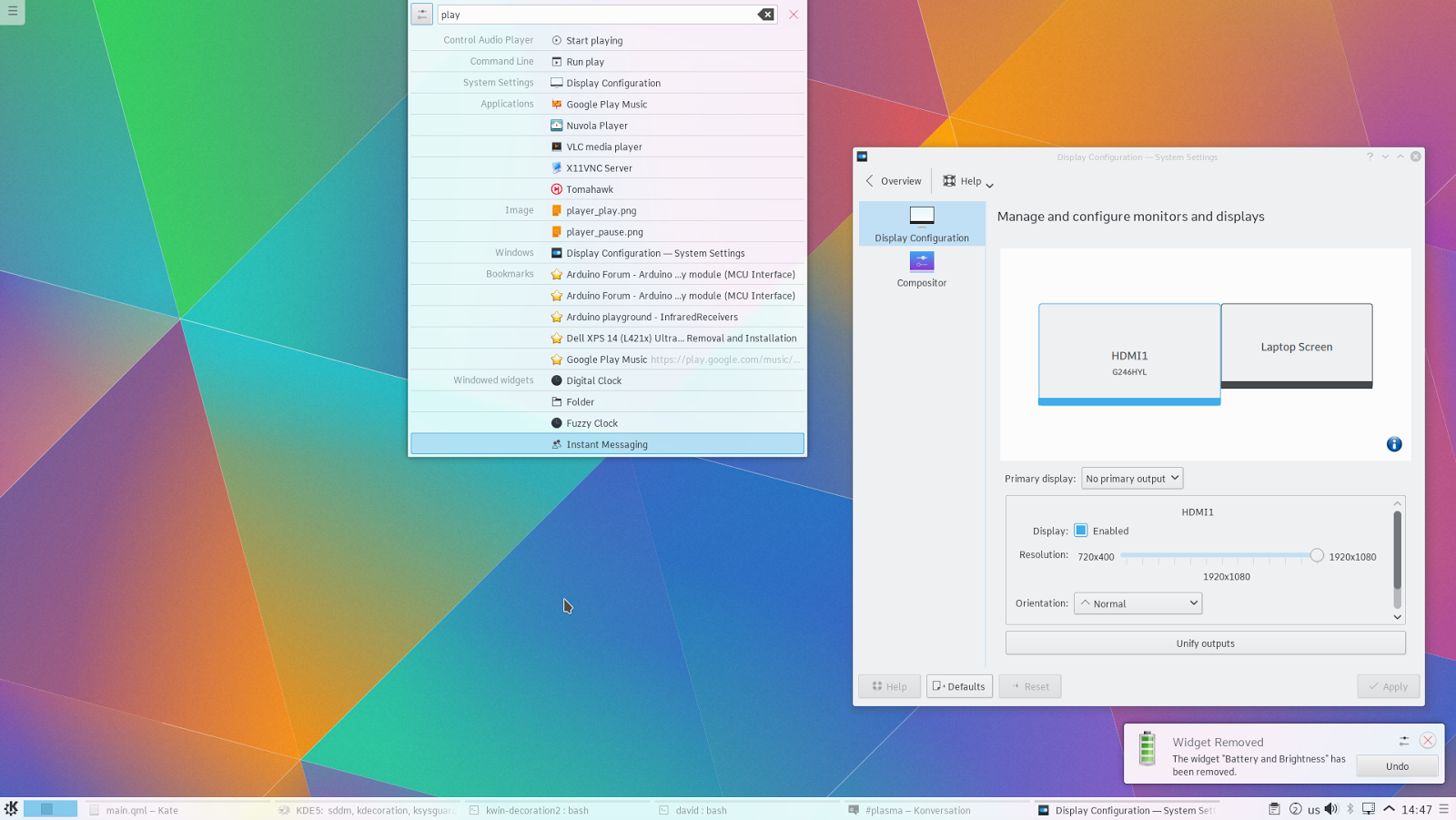 Today KDE releases a beta for Plasma 5.2. This release adds a number of new components and improves the existing desktop. We welcome all testers to find and help fix the bugs before our stable release in two weeks' time.
KDE Plasma
(formerly K Desktop Environment and KDE Software Compilation and KDE Plasma Workspace and Applications) is an open source project comprised of numerous packages, libraries and applications designed to provide a modern graphical desktop environment for Linux and UNIX-like workstations.
What's New in version 5.2 Beta :
BlueDevil: a range of desktop components to manage Bluetooth devices. It'll set up your mouse, keyboard, send & receive files and you can browse for devices.
KSSHAskPass: if you access computers with ssh keys but those keys have passwords this module will give you a graphical UI to enter those passwords.
Muon: install and manage software and other addons for your computer.
Login theme configuration (SDDM): SDDM is now the login manager of choice for Plasma and this new System Settings module allows you to configure the theme.
KScreen: getting its first release for Plasma 5 is the System Settings module to set up multiple monitor support.
GTK Application Style: this new module lets you configure themeing of applications from Gnome.
KDecoration: this new library makes it easier and more reliable to make themes for KWin, Plasma's window manager.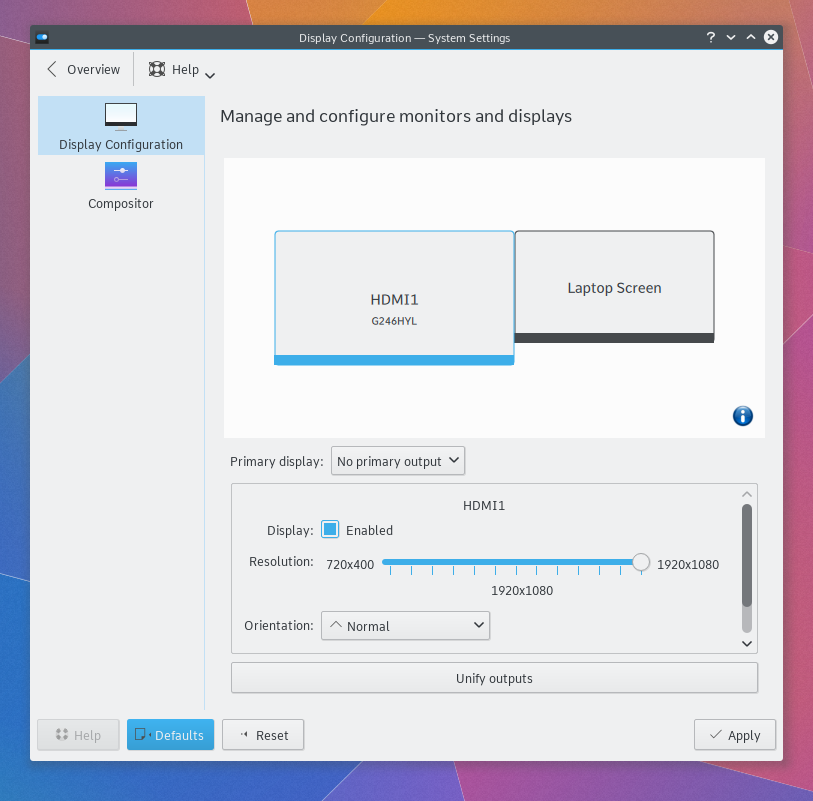 It combines ease-of-use, superior graphical design and powerful functionality with the unique features and architecture of the Linux operating system. It's comprised of the KDE Plasma Workspaces and KDE Applications components.
Additionally, it contains extra add-on for the panel and desktop, a download manager, an instant messenger, an addressbook, a document viewer, a multimedia layer called Phonon (similar to GStreamer on GNOME), and accessibility functionality, such as a powerful text-to-speech system.
It is one of the first and best desktop environments for Linux distributions. During the last couple of years, KDE proved to be a very mature, reliable and stable project, backed by a talented community.
You can install Plasma 5 directly from source. KDE's community wiki has
instructions to compile it.
Note that Plasma 5 does not co-install with Plasma 4, you will need to uninstall older versions or install into a separate prefix.
Install / Update KDE Plasma 5.2 Beta on Linux Kubuntu 14.10 :
KDE Plasma 5.2 Beta avaiable on PPA, open a new Terminal window and bash (get it?) in the following commands:
sudo apt-add-repository ppa:kubuntu-ppa/next
sudo apt update
sudo apt install kubuntu-plasma5-desktop
sudo apt full-upgrade
sudo reboot
For daily builds, install ppa:kubuntu-ci/unstable as above.
Live Images of Utopic Kubuntu Plasma 5 images are a development build of what will become the default desktop for Kubuntu next year.
Live Image of Kubuntu Utopic with Packages from Git The Weekly Live Image, updated every Friday with latest source from Git to run a full system from a USB disk. Based on Kubuntu 14.10.
KDE Plasma 5.2 Beta on OpenSUSE :

Packages are provided in KDE:Frameworks5 and KDE:Qt5 repositories, for openSUSE 13.1:
zypper ar -f http://download.opensuse.org/repositories/KDE:/Qt5/openSUSE_13.1/ Qt5
zypper ar -f http://download.opensuse.org/repositories/KDE:/Frameworks5/openSUSE_13.1/ KF5
openSUSE Factory:
zypper ar -f http://download.opensuse.org/repositories/KDE:/Frameworks5/openSUSE_Factory/ KF5
For openSUSE 13.2 :
zypper ar -f http://download.opensuse.org/repositories/KDE:/Qt5/openSUSE_13.2/
zypper ar -f http://download.opensuse.org/repositories/KDE:/Frameworks5/openSUSE_13.2/
For more details see
this page.
KDE Plasma 5.2 Beta ON slackware :
You can get Plasma 5 packages for Slackware-current from Alien BOB's repository. They should be installed on top of the latest KDE 4 package set from that same repository. Read more background on
Eric's blog
KDE Plasma 5.2 Beta on Arch Linux :
Plasma Next packages are available in the [extra] repository. To install it run:
# pacman -Syu
# pacman -S plasma-next
KDE Plasma 5.2 Beta on Fedora 20, Fedora 21 and Fedora 22
We provide Plasma 5 packages for Fedora 20 and 21 in the dvratil/plasma-5 Copr repository. (Please note that these packages replace Plasma 4. The Plasma 4 and Plasma 5 workspaces cannot be installed in parallel from our RPMs.) The required KDE Frameworks 5 packages are available in the official Fedora repositories for Fedora 20 (in updates) and 21, and will be automatically installed as dependencies of the Plasma 5 packages. (Unlike the Plasma workspaces, the libraries, i.e. KDE Frameworks 5, kdelibs 4 and kdelibs 3, can be installed in parallel.)
Add the Plasma 5 Copr to Yum and install the plasma-5 meta-package, which will install all needed packages.
wget http://copr.fedoraproject.org/coprs/dvratil/plasma-5/repo/fedora-20/dvratil-plasma-5-fedora-20.repo
yum install plasma5
On Fedora 21, replace fedora-20 with fedora-21.
If you use DNF, simply install dnf-plugins-core and run
dnf copr enable dvratil/plasma-5
dnf install plasma5
Plasma 5 will replace Plasma 4 as the system version of Plasma in Fedora 22. Until that happens, packages for Rawhide (i.e. what will become Fedora 22 and newer) are also available from the dvratil/plasma-5 Copr repository.
For all those who want to try out Plasma 5 without affecting their existing Plasma 4 installation, we also provide an x86_64 live image with Plasma 5 based on Fedora 20: http://pub.dvratil.cz/plasma/iso/5.1/.