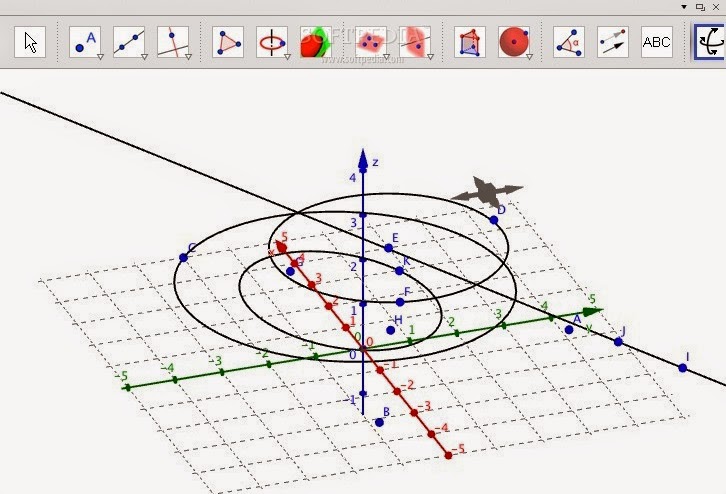 GeoGebra 5.0.44.0 is released, cross-platform dynamic mathematics software for Linux ubuntu, linux mint and debian derivative system
GeoGebra
is an open source, freely distributed and cross-platform graphical software implemented in Java and designed to act as a dynamic mathematics application that is capable of uniting geometry, calculus and algebra into a single and handy program that you can use anywhere and everywhere.
Features at a glance
Key features include support for handling points, vectors, variables, as well as the ability to find integrals and derivatives for functions. GeoGebra can be used by anyone who wants to learn and teach mathematics at all levels, all over the world.

Its graphical user interface looks the same on all supported operating systems, designed from the ground up to be as straightforward and easy-to-use as possible, offering users all the functions at a glance.
Supported operating systems and architectures
GeoGebra is a totally free and multiplatform software, written entirely in the Java programming language. On the desktop front, it is supported under all GNU/Linux distributions, as well as the Microsoft Windows and Mac OS X operating systems.

In addition, the project is available for tablet devices powered by either of the Android, iOS and Windows mobile operating systems. Both 64-bit and 32-bit instruction set architectures are supported at this time. GeoGebra for smartphones will be available very soon!
To Install GeoGebra 5.0.44 on Ubuntu 15.04 vivid Vervet, ubuntu 14.10 Utopic Unicorn, Ubuntu 14.04 Trusty Tahr, Ubuntu 13.10/13.04/2.04, Linux Mint 17.1 Rebecca, Linux Mint 17 Qiana, Linux Mint 13 Maya, Pinguy OS 14.04, Elementary OS 0.3 Freya, Elementary OS 0.2 Luna, Peppermint Five, Deepin 2014, LXLE 14.04, Linux Lite 2.0, Debian 8 "jessie" (upcoming), Debian 7 "wheezy", Debian 6 "squeeze", Kali linux 1.0.9, Kali Linux 1.0.8 (and old version 1.0.7, 1.0.6, 1.0.5), KNOPPIX, Kanotix, Astra Linux, Blankon Linux 9.0 suroboyo, Blankon Linux 8.0 rote , Blankon Linux 10.0 tambora (upcoming) and old version 7.0, Univention Corporate Server and debian, open a new Terminal window and bash (get it?) in the following commands:
Download
GeoGebra
5.0.44.0 via wget
wget http://www.geogebra.net/linux/pool/main/g/geogebra5/geogebra5_5.0.44.0-37795_i386.deb
Install
GeoGebra
5.0.44.0 debian package [deb]
sudo dpkg -i geogebra5_5.0.44.0-37795_i386.deb
In case "dpkg" indicates missing dependencies, complete the installation by executing the following command:
sudo apt-get install -f
Our hope tutorial entitled "
GeoGebra 5.0.44.0 is released, cross-platform dynamic mathematics software for Linux ubuntu, linux mint and debian derivative system
" can be useful for visitors or readers.