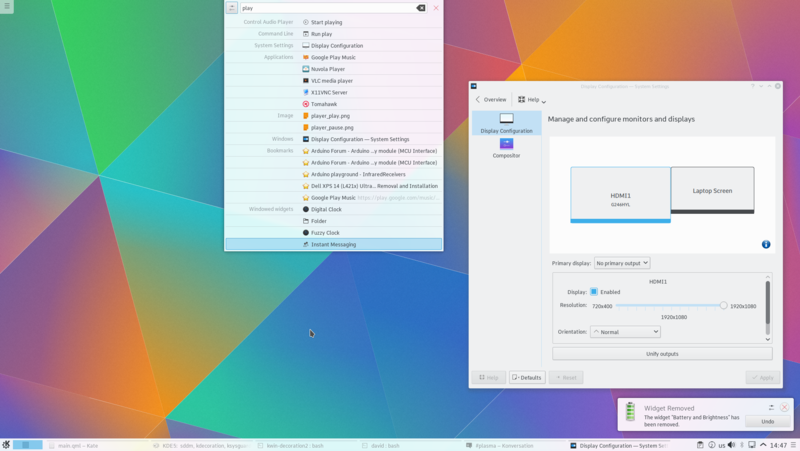 Today KDE releases Plasma 5.2. How to install on Debian 8 "jessie" , Debian 7 "wheezy", Ubuntu 14.10, Ubuntu 15.04, Fedora 21, Fedora 20, OpenSUSE 13.2, OpenSUSE 13.1, Arch Linux and Linux Mint 17.1 Rebecca
KDE Plasma
(formerly K Desktop Environment and KDE Software Compilation and KDE Plasma Workspace and Applications) is an open source project comprised of numerous packages, libraries and applications designed to provide a modern graphical desktop environment for Linux and UNIX-like workstations.
A beautiful, modern and traditional desktop environment
It combines ease-of-use, superior graphical design and powerful functionality with the unique features and architecture of the Linux operating system. It's comprised of the KDE Plasma Workspaces and KDE Applications components.
Additionally, it contains extra add-on for the panel and desktop, a download manager, an instant messenger, an addressbook, a document viewer, a multimedia layer called Phonon (similar to GStreamer on GNOME), and accessibility functionality, such as a powerful text-to-speech system.
What's new in KDE Plasma 5.2.0:
New Components:
This release of Plasma comes with some new components to make your desktop even more complete:
BlueDevil: a range of desktop components to manage Bluetooth devices. It'll set up your mouse, keyboard, send & receive files and you can browse for devices.
KSSHAskPass: if you access computers with ssh keys but those keys have passwords this module will give you a graphical UI to enter those passwords.
Muon: install and manage software and other addons for your computer.
Login theme configuration (SDDM): SDDM is now the login manager of choice for Plasma and this new System Settings module allows you to configure the theme.
KScreen: getting its first release for Plasma 5 is the System Settings module to set up multiple monitor support.
GTK Application Style: this new module lets you configure themeing of applications from Gnome.
KDecoration: this new library makes it easier and more reliable to make themes for KWin, Plasma's window manager. It has impressive memory, performance and stability improvements. If you are missing a feature don't worry it'll be back in Plasma 5.3.
Other highlights:
Undo changes to Plasma desktop layout
Smarter sorting of results in KRunner, press Alt-space to easily search through your computer
Breeze window decoration theme adds a new look to your desktop and is now used by default
The artists in the visual design group have been hard at work on many new Breeze icons
New plasma widgets: 15 puzzle, web browser, show desktop
Audio Player controls in KRunner, press Alt-Space and type next to change music track
The Kicker alternative application menu can install applications from the menu and adds menu editing features.
Our desktop search feature Baloo sees optimisations on startup. It now consumes 2-3x less CPU on startup. The query parser supports "type" / "kind" properties, so you can type "kind:Audio" in krunner to filter out Audio results.
In the screen locker we improved the integration with logind to ensure the screen is properly locked before suspend. The background of the lock screen can be configured. Internally this uses part of the Wayland protocol which is the future of the Linux desktop.
There are improvements in the handling of multiple monitors. The detection code for multiple monitors got ported to use the XRandR extension directly and multiple bugs related to it were fixed.
Default applications in Kickoff panel menu have been updated to list Instant Messaging, Kontact and Kate.
There is a welcome return to the touchpad enable/disable feature for laptop keypads with these keys.
Breeze will set up GTK themes on first login to match.
Over 300 bugs fixed throughout Plasma modules.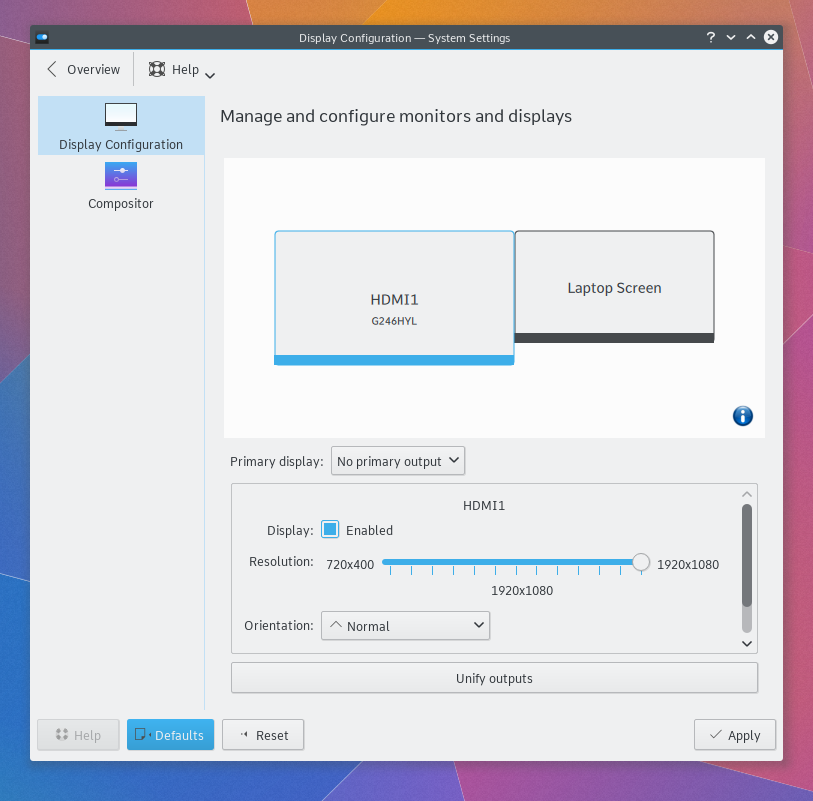 The easiest way to try it out is the with a live image booted off a USB disk. Images which use Plasma 5.2 beta are available for development versions of Kubuntu Vivid Beta and
Fedora 21 remix
. We expect Plasma 5 to be picked up as the default desktop in leading distributions in the coming months.
Install KDE Plasma 5.2.0 on Debian, Kubuntu, Fedora, OpenSUSE, Arch Linux and Linux Mint
to install KDE Plasma 5.2.0 on Ubuntu 15.04 vivid Vervet, ubuntu 14.10 Utopic Unicorn, Ubuntu 14.04 Trusty Tahr (LTS),Linux Mint 17.1 Rebecca, Linux Mint 17 Qiana,Debian 8 "jessie", Debian 7 "wheezy", openSUSE 13.2, openSUSE 13.1, Fedora 21, Fedora 20 and arch linux, open a new Terminal window and bash (get it?) in the following commands:
This section provides information about hard (required) and optional software packages needed to build the KDE Framework.
Dependencies
deb-based distributions (
Debian, Kubuntu, Linux Mint
…):
$ sudo apt-get build-dep qtbase5-dev
$ sudo apt-get install libbz2-dev libxslt-dev libxml2-dev shared-mime-info oxygen-icon-theme libgif-dev libvlc-dev libvlccore-dev doxygen gperf bzr libxapian-dev fontforge libgcrypt20-dev libattr1-dev network-manager-dev libgtk-3-dev xsltproc xserver-xorg-dev xserver-xorg-input-synaptics-dev libpwquality-dev modemmanager-dev
openSUSE:
All the necessary dependencies:
$ sudo zypper si -d libqt5-qtbase
$ sudo zypper in libbz2-devel libxslt-devel libxml2-devel shared-mime-info oxygen-icon-theme giflib-devel vlc-devel doxygen gstreamer-0_10-devel gstreamer-0_10-plugins-base-devel docbook-xml-slides docbook-xsl-stylesheets xcb-util-keysyms-devel perl-JSON boost-devel libxcb-devel libXrender-devel xcb-util-wm-devel xcb-util-devel xcb-util-image-devel gettext-tools
$ sudo zypper in gtk3-devel # for kde-gtk-config
$ sudo zypper in grantlee5 # for kdevplatform
$ sudo zypper in libkdcraw-devel liblcms2-devel # for gwenview
Fedora:
All the dependencies used for building frameworks can be installed by running:
$ sudo yum-builddep qt phonon-backend-vlc phonon-backend-gstreamer
$ sudo yum install gcc-c++ ruby doxygen git bzr flex bison gperf socat boost-devel bzip2-devel libxslt-devel libxml2-devel shared-mime-info oxygen-icon-theme giflib-devel xcb-util-keysyms-devel perl-JSON perl-Pod-Usage "*xcb*-devel" perl-XML-Parser NetworkManager-glib-devel xapian-core-devel libxkbcommon-devel libxkbcommon-x11-devel systemd-devel libwayland-cursor-devel libwayland-server-devel libepoxy-devel gtk3-devel sane-backends-devel libcanberra-devel libusb-devel libxkbfile-devel fontforge-devel libical-devel gpgme-devel cyrus-sasl-devel openldap-devel
Arch Linux:
All the dependencies used for building frameworks can be installed by running:
$ sudo pacman -Sy phonon-qt5 qt5-webkit qt5-script qt5-svg qt5-tools qt5-x11extras enchant jasper openexr libutempter docbook-xsl shared-mime-info giflib libxss upower udisks2 bzr git doxygen perl-json perl-libwww
$ <your_AUR_helper> kf5-akonadi-git
For more full information about installation
KDE Plasma 5.2.0
on
Debian, Kubuntu, Fedora, OpenSUSE, Arch Linux and Linux Mint
you can follow
this page.
Link PPA Ubuntu Archive : http://media-opensource.blogspot.com/p/ppa-ubuntu.html